The Wine & Chocolate Walk on Saturday, February 1st from 1-5pm offers attendees a chance to taste fine wines and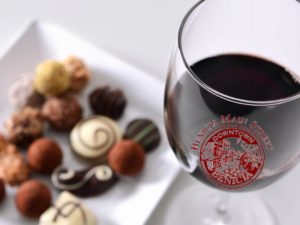 chocolate pairings in Downtown Benicia.  Thirty-two different wines will be poured inside participating downtown shops, providing an enjoyable sweethearts day out to "sip, walk, and shop" with the added bonus of chocolate tastings.
Tickets are $30 advance for a single ticket and $55 advance for a pair of tickets. The day of the event the price increases to $35 for a single ticket. Ticket price includes up to 15 tastes and one (1) complimentary Benicia Main Street wine glass per person. Participants must be age 21 and over. Check-in starts at 12:30pm at Benicia Main Street, 90 First Street.  Wine glass, map of tasting locations, and wristband will be provided per ticket holder at check-in.
Tickets are limited and will be sold and can be purchased at Benicia Main Street, 90 First Street, or online HERE.

Participating Businesses
Angel Heart 4 You ~ Dante Chardonnay (CA)
Arata Art Gallery ~ Longboard Sauvignon Blanc (Russian River)
Benicia Main Street ~ Stella Pinot Grigio
Benicia Spiritual Advisor ~ Stella Moscato (Italy)
Berkshire Hathaway ~ Avive Pink Grapefruit Sparkling (France)
Bookshop Benicia ~ Santa Julia Brut Rose (Argentina)
Celestial Art Gallery ~ Hahn Pinot Noir (Monterey)
Christina S ~ Francois Montand Blanc de Blanc (France)
Coldwell Banker Solano Pacific ~ Gran Passione Prosecco (Italy)
Collektive ~ Le Charmel Loire Rose (France
Daughter of Luna ~ Dante Pinot Noir
Dianna's Bakery & Café ~ Gran Passione Bianco (Italy)
Elisa's Cottage ~ Gran Passione Rosso (Italy)
Gallerie Renee Marie ~ Vinum Pinot Noir (Monterey)
Happy Life Pottery ~ Ancient Peaks Zinfandel (Paso Robles)
Lindsay Art Glass ~ La Capranera Aglianico (Amalfi Coast, Italy)
Milinda Perry Salon ~ La Capranera Fiano (Amalfi Coast, Italy)
Once Upon A Canvas ~ Citra Merlot (Italy)
Pink Arrows ~ Andrew Murray Syrah (Central Coast)
Pups N Purrz ~ Bellafina Prosecco (Italy)
Re/Max Gold ~ Heron Cabernet (CA)
Ridge Real Estate Group ~ Ventana Rubystone GSM Blend (Arroyo Seco)
Roberto's Fine Jewelry ~ One Stone Cabernet (Paso Robles)
Romancing the Home ~ Kin & Cascadia Pinot Noir (Oregon)
Sepay Groves Olive Oil ~ Hahn GSM (Central Coast)
Spotless Carpet Cleaning ~ Ancient Peaks Cabernet (Paso Robles)
The Little Art Shop ~ Dante Cabernet
The Steffen Collection ~ Viano Vineyards Champagne (Martinez, CA)
The Vintage Owl ~ Tellus Cabernet (Italy)
Timeless Memories ~ A Crisp Chardonnay (CA)
Wellness Wisdom ~ Santa Julia Organica Tempranillo (Argentina)
Zeppelin Comics ~ Backstory Cabernet (CA)